Why the 2017 Nissan Titan should be the next vehicle you take home
Whether you're looking for a new pickup truck to accommodate your workday or weekend adventure, the Nissan Titan offers the bold, rugged styling and capability you need on- and off-the-road. The exterior is superior, where the interior offers premium amenities and plenty of room to stretch out and enjoy the open road. Not to mention, it's loaded with the tech features you need to appease, entertain, navigate and conquer. With such a diverse array of features, the Nissan Titan is a pro at catering to a variety of different lifestyles and projects.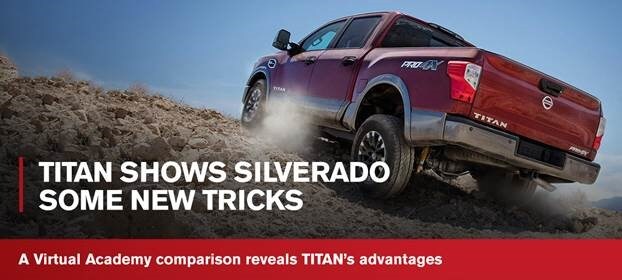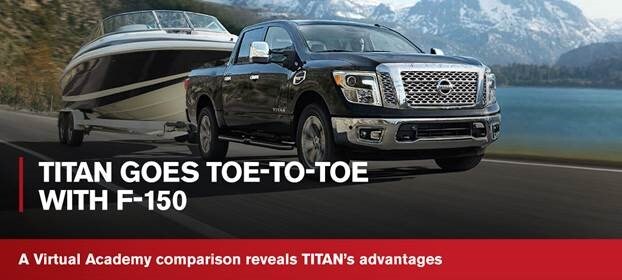 The 2017 Nissan Titan Beats The Competition

Under-the-Hood Specs
Engine: The 2017 Nissan Titan comes outfitted with a 5.6-liter, Endurance® V8 gas engine. The 2017 Ford F-150 only offers a 5.0-liter DOHC V8.
Horsepower: The Nissan Titan kicks out an impressive 390 horsepower at 5800 rpm. The Ford F-150 falls short with 385 horsepower at 5750 rpm.
Torque The Nissan Titan also outputs 394 pound-feet of torque, which is more than the 387 pound-feet of torque the Ford F-150 delivers.
Drivetrain: The Nissan Titan makes the most of the powerful V8 engine with a seven-speed automatic transmission. The Ford F-150 pairs its V8 with a six-speed automatic transmission.
Performance and Capability
Traction: Both the 2017 Nissan Titan and the 2017 Ford F-150 offer a four-wheel drive system for optimal on- and off-road performance.
Brake Test: In a test where both pickups were hooked up to 8,9000 pound trailers and accelerated up to 60 mph and then stopped as quickly as possible, the Titan stopped at 198 feet, where the Ford-150 stopped at 225 feet.
Corning Test The Nissan Titan's g-force capability is more impressive in both wet and dry conditions than the Ford F-150.
Vehicle Highlights
Price: With all of these features in mind, the Titan is priced at $46,385. The Ford F-150 is more of an investment with a $53,655 price tag.
Comfort and Convenience: The Titan boasts a comfort and convenience package, tow convenience package, utility package and leather package. The Ford F-150 offers one less package than the Titan. Those packages include pro trailer backup assist, trailer tow package, integrated trailer brake controller.
Warranty The Nissan Titan offers more peace of mind than the Ford F-150 with five-years or 100,000 miles of coverage (whichever one comes first). The Ford F-150 is backed with three-years or 36,000 miles of coverage.
Convinced the 2017 Nissan Titan will make a great addition to your work day? Then consider joining us here in Inver Grove Heights, where we serve the greater Sunfish Lake, Mendota, Newport, Cottage Grove and Woodbury region with our sizable new 2017 Nissan inventory.